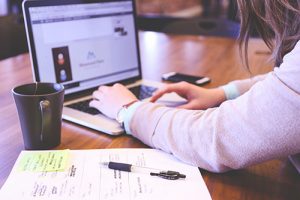 With the internet growing in popularity by the day, it is likely that your website is the face of your law firm. Website trends change every year and have been evolving in a more interactive and user-friendly direction. How far behind in time is your firm's website?
There are many possibilities available for site designs that your firm could be utilizing to appeal to all demographics. Below are some of the best ways to drive traffic to your firm:
1. Multimedia Graphics
Whether it's a picture or a video, some of the most aesthetically pleasing websites have large pictures that capture the brand. Graphics are most effective when you use photos of people from your business instead of poorly shot stock photos. Would you rather a client know you as the face of your business or the face of a complete stranger? Adding graphics to your website humanizes your company, allowing for your clients to see your firm as someone who is relatable.
2. One Page Scrolling Design
With more clients using phones and tablets to browse websites, making sure your website is easy to navigate can set you apart from other law firms. Having your information on a single page allows for easy scrolling, and also can appeal to clients who quickly look over your website. If you choose to stick with a website that has multiple pages, make sure to pull it up on your phone to see how other people view it. If you can't read it, nobody else can either.
3. Live Chat
Response time is a large factor to gaining new clients from the online market. Live chats are becoming increasingly popular to outsource because they can help you save time and money. Why spend time talking to every person, when you could only speak to the ones that have a great case. Don't lose business to someone else because you fail to answer a question in time.
4. Cutting Down on Content
Sometimes less is more when it comes to your firm's website. If you have too much text sectioned into large paragraphs, potential clients might not take the time to read it. An "about us" page can be the right place for some extra information, but the home page of your website should be direct and to the point. Make sure to touch on who you are, what you do and your practice areas.
5. Quick Load Time
One of the most important thing about your website is that it should load in a quick manner. Did you know that if a website loads in 4 minutes or more, a person is most likely going to go to another website. Testing your website speed is essential for keeping the attention of new clients. Going on a website like developers.google.com and entering your site link could help you find out your website is slow before it's too late. If you're not up to date on how to fix this, just bring it to the attention of your website host and get it fixed!