9 Problems With Marketing Automation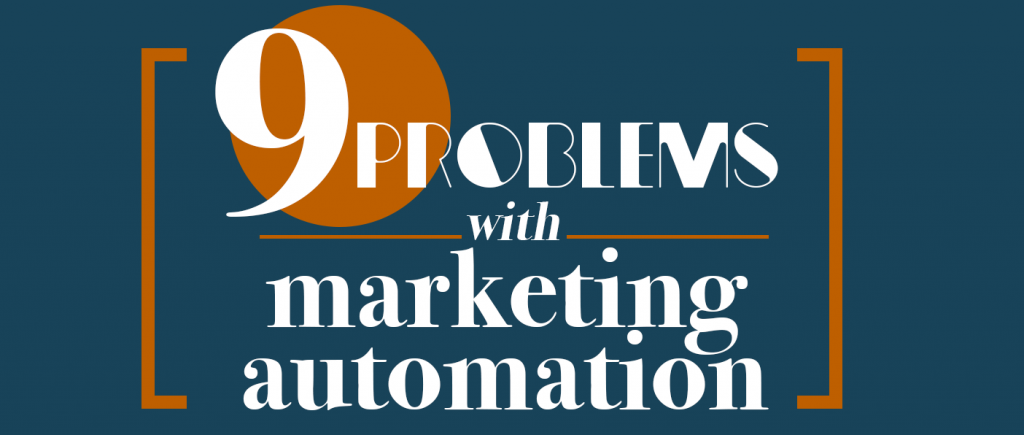 Marketing automation is one of the greatest inventions in marketing history…yet it is still one of the most dangerous things to try. Though some accelerate at using this tool, it can be quite tricky and have its downfalls. We, for one, fell victim to the terrors of marketing automation going wrong and had to suffer the price. Hopefully, we can tell you the problems with marketing automation so you might be able to avoid them when nurturing your leads.
Set It & Forget It
To those who think that once all of the content is done that things can be set on a reoccurrence and forgotten…you are mistaken. The "set it and forget it" mentality with marketing automation will never help with increasing contacts because it's always important to test certain messages and see which get the best reactions out of your target market. Instead of creating content and never looking back, try creating A/B tests of certain emails to determine which works best. This will allow you to push the best content forward and get the best results possible. Always remember to revisit your marketing automation emails every quarter to take out any information that is performing poorly.
Poor Utilization
Want marketing automation but don't have the time to put into it? Poor utilization could make or break your campaign without much warning. If you have everything in order, but your leads drip through your funnel in a week, what are you left with? Leads that still could convert into clients in the future, but haven't been given the chance to learn more about your firm. Make sure that when setting up a plan to get your sales team involved for speedy follow-ups, give people enough time between emails to decide on a response, and make sure that you have specific messages designated for certain segmentations. These little tweaks can make a huge difference in the ROI over time.
Lack of Content
Marketing automation requires varied content, and a lot of it! If you don't have any blog posts, graphics, or press releases for your firm, marketing automation might need to be put on hold. Content should be regularly created and appeal to your potential clients enough to view you as an industry expert. To get past spending too much time on content, try creating some content and re-marketing it later in the year with a different look or title. This will still be relevant, plus, you can reuse your old content and still get leads from it. Input your media into your early funnel emails to create brand awareness with your target market.
Complex Integration
This is where our downfall was, our system was too complex. It ended up having holes that allowed our whole list to be emailed at once instead of a small list emailed over a long amount of time. When your system is too complex for many people to understand, it's probably good to dial it back before running it out. Try scaling down your idea into something more manageable and then take your results and build more. Creating at a slow and steady pace is much easier to fix than something larger. Take it from us when we say this is not fun to go through.
Wrong Platform for Needs
Most firms don't have a strong desire to spend large quantities of money on email software, so they settle with something that is free/cheap and it limits their abilities to perform their ideas correctly. A platform like
Mailchimp
might be great for an occasional newsletter, but if you want to get more in depth, it's suggested to purchase a platform to fit your needs. If you are looking for an easier option, try other marketing alternatives until one shows profit. Emails aren't always necessary, but they definitely help out. Try out alternatives like PPC and lead generation and see if they bring in enough business for your firm.
No Training or Research
Even with a general knowledge of what you want to accomplish, marketing automation can still be tricky. You must understand triggers, transitions, and actions that need to be taken during certain funnels. Not to say that it's impossible, but training and adequate research will help you with figuring out the best ways to implement a great strategy. Unsure of where to turn for help? Try doing research on your email marketing program's company blog for tips and tricks. Another great way to get help is to search around on the blogs of
Hubspot
,
CoSchedule
,
Marketo
, and
Mailchimp
to see their suggestions on the topic of your choice. The more research done, the better your campaign will be in the long run.
Only Pitching & Not Nurturing
Sell. Sell. Sell. That's the best way to get new clients, right? That might have been the truth 20 years ago, but now, client nurturing is more important than ever. So many brands just send out information about their services and products, but never think that they should build a reputation first. Try creating a three-part funnel for your lead nurturing process. The first part should nurture through educational information and useful resources. From there, you can determine that the middle funnel should be getting a mixture of helpful information and bursts of information about your firm. The final funnel should be your most aggressive – sell, pitch, and sell some more. These prospects most likely are close to reaching a decision on who they should hire to help with their legal issues. These funnels could be over a short amount of time, just gauge it based on how long it normally takes your firm to convert a client.
Mass Emailing
Mass emailing. Everyone does it. Nobody likes it. The messages are normally broad, the emails are often not targeted, and they are overall outdated. This is what your nurture campaign could turn into if it is done incorrectly. It is important to understand what messages need to be conveyed in each email and that they vary by week. To add personalization, try inserting a field that inserts your prospects name into the first line. Doing this or also putting their name in the subject line have always yielded more engagement for all B2C companies.
Not Testing
It's always important to test, but what if you can't? Some marketing automation tools don't allow for testing, especially with basic subscription purchases. This is why marketing automation's last and final problem is about testing. If you don't test your campaign, there is a large possibility that you will run into numerous issues. Whether it is simple grammatical errors or you send all of your emails at once (oops), it is hard to predict what is going to happen. Humans make errors, but technology has a way to flaunt them. A great way to make sure that your plan is foolproof is to create an outline, have people revise your writing, and ask for second opinions on how flows are supposed to work. There's nothing wrong with getting help, especially if it could save your brand in the future.
---
Marketing automation is no joke. We're still perfecting the art of it, which means that you don't have to. Want a better solution for your firm to gain more clients? Check out our legal lead generation tool and see if it's a right fit for you! Contact us at
grow@leadrival.com
or 1.800.332.8017.
Ready to start getting more leads?
Connect today to learn more...
Schedule a Call
Let's talk more about what LeadRival has to offer your firm.
Complete Our Contact Form
Let's talk more about what LeadRival has to offer your firm.