Branding For Lawyers: Importance of High-Quality Headshots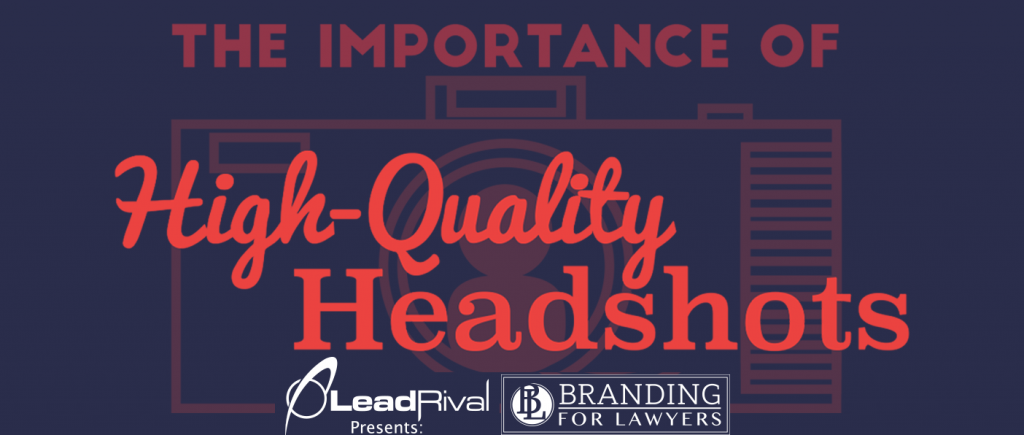 The most impactful part of any firm's website is the "Attorneys" page. It says more about a company than any other page. Instead of just saying what a firm does, it tells a story about the team of dedicated people who work there. If a photograph is truly worth a thousand words, high-quality headshots for any business are a must-have. [Tweet "Inconsistent headshots make a website look extremely unprofessional."] Believe it or not, inconsistent headshots make a website look extremely unprofessional. Pixelated images that don't correlate show a lack of frequent updating and instantly ages the site (in some cases the person as well). Instead of using an old image of a team of employees, it's best to update headshots whenever someone new joins the group. A more cost effective route would be to have new hires photographed by the same photographer for a consistent appearance. So what makes a strong headshot? The next time photographs are taken, follow these rules:
Hire a professional

Lighting and camera setting can make or break an image, so hiring someone that knows what they are doing promises for a great photo
Understand what is being paid for – is the cost just for a photo each or are the raw images included for future use
Use the same background for all headshots

Avoid using the "typical attorney" background of a bookshelf and instead, opt for a white or grey background
Consistency is key, but variance is fun

Having everyone take pictures at the same time doesn't have to be boring. Try having each person pose differently to mix things up and show personality.
Look professional – or don't

Not everyone needs to be wearing the same exact outfit, but color coordinating with branding colors is a nice touch
Wear suits to the office every day? Then dressing up for photos is a great idea. But if the office is a bit more relaxed, photo day outfits can be more laid back.
A great way to spice up firm headshots and make them more personal is to shoot them in office. Personal offices as backgrounds add personality to each person's headshots. Or, if a company has an office in a sky rise, photos with the city through large windows is appealing. Just make sure the lighting is right as a backlit photo can be frustrating to correct in photo editing software. Brainstorming beforehand will give a photographer a lot more to work with and could leave you with great photos in the long run. In 2015, we decided to update headshots at LeadRival and let people do their own thing! We opted for a white background mainly because it was too cold to do an outside shoot. Our headshots were created to work well on our new website, but soon will have a fun touch to add personality to our page. Check back soon and see if we have our fun photos posted (for now enjoy the .GIF  by clicking below)!
If you've contemplated updating your firm photos, we hope this has provided some helpful insight. Doing research to find the right photographer can be time-consuming but could ultimately pay off in the long run for a professional and cohesive website design. Want some good (and bad) examples of attorney headshots? Head over to
Great Jakes and read their review of last year's best attorney photos
. Don't want to waste resources on headshots, but still desire to add new clients? LeadRival can help! Contact us at
grow@leadrival.com
or 1.800.332.8017 for more information on how we can help!
Ready to start getting more leads?
Connect today to learn more...
Schedule a Call
Let's talk more about what LeadRival has to offer your firm.
Complete Our Contact Form
Let's talk more about what LeadRival has to offer your firm.