Branding For Lawyers: Ditch The Generic Signature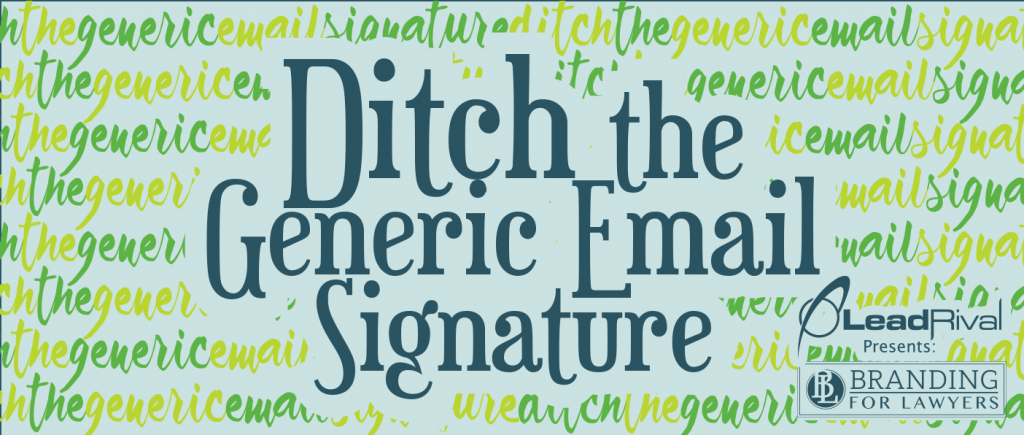 Email Signature
With over 205 billion emails being sent every day, how often are your emails being noticed? Emails to potential and current clients are important because they reflect you and your firm. The one thing that will help your emails stand out from others is your email signature. Too many firms and attorneys have two of the worst practices implemented in their emails – bland signatures and over-excessive signatures. Prevent yourself from making bad first impressions through email by following our simple tips to signature success!
Things all email signatures should include:
Your Name
Your Position | Your Firm Name
Phone Number | Fax Number
Website
Images
For many email services, adding images into an email signature is easy to do and adds an extra eye-catching element. Adding a small photo of your logo or headshot will help clients remember your conversations better. If you do add a headshot, make sure that you left align it and save it as a smaller size.

One way to make head shots look great is to crop them in a circular shape. Whatever you decide to add, make sure that it works with the rest of your signature. And never add your personal information into the image, because many mail servers will block images from unknown senders and your information will be hidden.
Fonts
Depending on your email service, you will have a select number of fonts to use with your signature. We suggest creating your unique email signature with fonts that are the same or similar to ones that your brand uses. Try to use serif and sans serif fonts interchangeably if your firm's font isn't available to use.

We suggest to use up to 3 fonts, or 3 font variations from the same family. The best option is to use 1 font and utilize the bold and italicize options. Remember to always stay clear of Comic Sans, Papyrus, or any decorative fonts. [Tweet "Remember to stay clear of Comic Sans, Papyrus, or decorative fonts."]
Colors
Colors seem like a great way to create a unique signature, but using them wrong can easily turn a great signature into a terrible one. Pick one color that matches your branding and use it sparingly.
We suggest going bold and either coloring your name or website. Limiting where the colors are used will create a cohesive design with just enough pop. For a subtle pop, switch up your link colors for something more brand-specific. [Tweet "Switch up your link colors for something more brand-specific."]
Size
Larger signatures don't necessarily mean that they are better. When designing your signature, try keeping font sizes between 12 and 16 points. Using a larger font size for your name and a smaller font size for everything else creates hierarchy.

By pretending that there is a box around your content, size all other elements to fit inside it. This will ensure that your email will look the same on computers and devices. If your firm's logo isn't legible at a smaller size, it can be resized until it can be read with ease. [Tweet "Larger signatures don't necessarily mean that they are better."]
Social Icons
To include your social media accounts or not? This is a question that can be answered by evaluating the amount of professional content you share on these channels. A Facebook page might be a great thing to include to offer clients another way to get in touch with you. But, if your Facebook is filled with inappropriate content or personal data, we suggest keeping that to yourself.

If you do decide to add social icons into your email signature, be sure to use icons that match your branding. Canva has a great article on
where to go online for free fonts to download
. Use these and either keep them a neutral color, or match a color in your logo for an extra pop! [Tweet "Should you include social media accounts in your signature?"]
Call-To-Action
Do you have a link that you'd like potential or current clients to click? Adding it to your signature could be beneficial and a time saver for many. At LeadRival, our business development team has
TimeTrade
accounts that are linked in their email signatures. This link redirects anyone that clicks on it to an online calendar to set up a call time.
You can use this link as a call to action, or you could link someone to content you posted. Regardless of what you choose, limit the number of call-to-actions in your emails for best click through results. [Tweet "Limit the call-to-actions in your emails for the best CTR."]
Disclaimer
Lawyers might feel that adding a long disclaimer is necessary to ensure email confidentiality and to make sure all legal areas are covered. Legal disclaimers can be short, sweet and to the point to be effective. Want to know why? As per
the ABA blog
, "There is no legal doctrine or theory under which an email confidentiality disclaimer is enforceable [if the email is sent to the wrong person]", which means you can probably leave disclaimers off of your email. But, if you'd rather be safe than sorry, adding a short disclaimer at the bottom could be a point raised in court if necessary.

There are so many technicalities involved in disclaimers between lawyers and lawyers or lawyers and clients that you should read the article on your own. We're not lawyers, so you will have to make that decision on your own. But, if you do decide to add a disclaimer to the bottom of an email, differentiate it with a separator and a lighter font color. [Tweet "You can probably leave disclaimers off of your email."]
How-To
So now that we've gone over what you should and shouldn't add into signatures, do you know how to actually implement these things into your email? If you have a Gmail account,
click here for instructions
. For Outlook users,
click here for instructions.
Unfortunately for iMail users, email signatures are a bit more difficult to format. It requires html editing and usually ends in frustration for those that try it. For basic edits for mac users,
click here for instructions
. Even if you can't do all changes to your signature, a few visual changes can make a big difference. [Tweet "Learn how to set up email signatures for all accounts."] Even with a great email signature, it can still be challenging to get the attention of potential clients. If you are looking to grow your firm, LeadRival can help with your internet marketing. Give us a call at 1.800.332.8017 or email us at
grow@leadrival.com
for more information.
Ready to start getting more leads?
Connect today to learn more...
Schedule a Call
Let's talk more about what LeadRival has to offer your firm.
Complete Our Contact Form
Let's talk more about what LeadRival has to offer your firm.