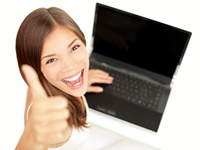 As technology shifts our culture, over 50% of a consumers first "face to face" interaction with a business is online. Does your website offer a good first impression?  It is more important now than ever before for businesses to show respect and appreciation to consumers through their online presence.
Wonder how consumers perceive respect online? It is through the thoughtful consideration of how your website can best work for them. Think of how you feel when you approach a website that is difficult to maneuver through with very little useful information…it is the same feeling one gets when being put on hold for 20 minutes. Eventually the patience wears out and they move on to someone that can meet their needs in a more effective manner. In the same way, consumers expect their time to be respected while on your website and show their appreciation with action.
3 Crucial Website Tips Your Customers Will Appreciate
RESPONSIVE WEB DESIGN

From desktops to smart phones, consumers use multiple devices each day to access online sites… Are your websites designed for customer ease regardless of which device they choose? According to research done by The International Telecommunication Union, there were 6 billion mobile subscriptions (87% of the world population) at the end of 2011. Many companies have adapted to mobile landing pages in order to best accommodate this rising population of online users, but what statistics do not show, is how many of these mobile subscribers also have a desktop computer and/or tablet? Each require a different web design; each used by consumers at different points in the day. Being unable to predict which device consumers will use and when, the most effective way to eliminate this problem is integrating responsive design codes into your web pages. Responsive design codes will allow your company to effectively communicate information to the consumer on multiple web platforms for an optimal UX for any device.

CONTENT THAT IS BOTH HELPFUL & MEANINGFUL

Internet browsing has become a way of life for most. The days of encyclopedias are long gone, instead consumers choose websites according to the information they are seeking to fill a need. Whether the need be intellectual or for consumption, if your website does not offer value to the consumer, it is worthless. Content on your website is not merely to fill space, each line should be thought out and given a specific purpose with the end goal to educate, intrigue and draw in consumers. If the content on your website does not offer value to the consumer, it is like putting a sign in your window saying "there's nothing here for you". Whether it is a contact page, blog or company info page, make sure that the information you offer to your customers is thought out and purposed. Ask yourself: Who is this for? What do I want them to do? Would this information interesting/helpful to me? Also, always, ALWAYS make sure you include a Call to Action.

EASY NAVIGATION: SHARE & CLICK-THROUGH BUTTONS

One of the biggest novelties to hit the interwaves is the coveted "share" button. Everyone, young and old alike are jumping at the chance to be the first to share information or pictures to others in their social community so that they may be the "go to" person.  Why not make it easy for them to do? Having easily accessible share buttons not only allows for your information to be marketed for free by willing fans, but it also adds legitimacy to the work you put forward. If there are no share buttons, then you are portraying that the information you are offering to the consumer is not worth sharing. Therefore, your work loses value in the eyes of the consumer. Also, click-through buttons that are impossible to find or microscopic in design will only frustrate the consumer. Don't leave them hanging! Again, respect their time and make it easy to obtain the information they need.
Overall, in order to respect an online consumer the key is to make them feel like you want them to be there. A website with very little organization, useless content and navigation issues show the visitor that you do not respect their time or their money. These small adjustments will speak volumes to your consumers and have them dropping by more often.