Mobile usability officially affects your search ranking. On April 21st, Google will release their mobile-friendly algorithm which rolled out globally over the past week.
What you need to know:
You are or you aren't

There are no degrees of mobile-friendliness. A page is either classified as mobile-friendly or it isn't.

Page by page basis

Mobile-friendliness is determined on a page-by-page basis, not as a whole site.

Real time

Mobile-friendliness of search results is determined in real-time. This is good news for those that are not currently mobile-friendly…as soon as you make a page mobile-friendly it will be considered mobile-friendly in Google's search algorithm.
What does it look like?
Mobile-friendly search results will have a grey "Mobile-friendly" label displayed after the headline and URL: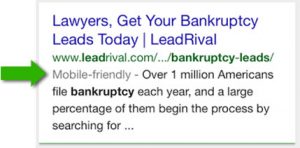 You can also check if a specific page is mobile-friendly by using Google's Mobile-Friendly Test.
What if My Page Isn't Mobile Friendly?
According to Google, your site is mobile-friendly if it:
Avoids software that is not common on mobile devices, like Flash
Uses text that is readable without zooming
Sizes content to the screen so users don't have to scroll horizontally or zoom
Places links far enough apart so that the correct one can be easily tapped
This algorithm update will have a major influence on search rankings; Google has said that its impact will be bigger than that of both Panda and Penguin. It's estimated that over 50% of searches are now done on mobile devices, and that number is only predicted to rise. Mobile search is the future, so if your site's not already mobile-friendly, use this algorithm change as motivation to improve your site's mobile usability.