LeadRival's Brand Refresh (And The Changes We Made)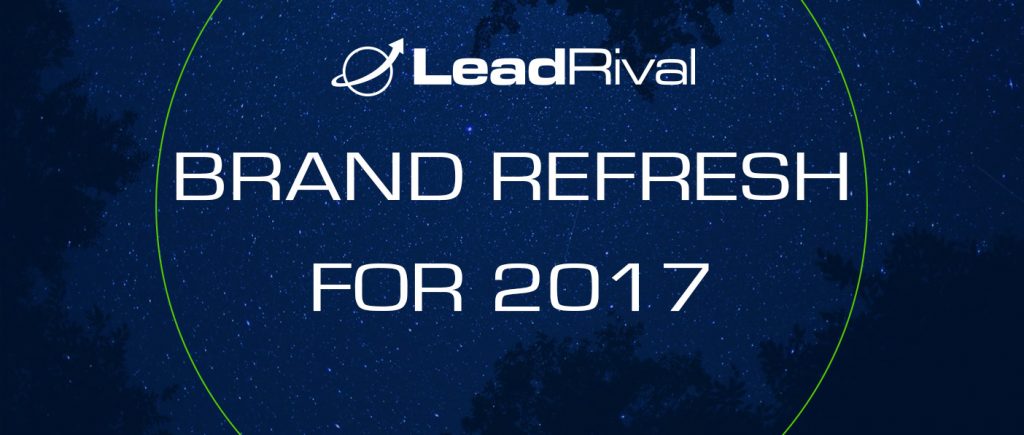 You may have noticed that our logo and website were recently updated. Our team has been working hard to refresh LeadRival's brand image and we'd like to help firms by outlining our process. If your firm has been contemplating a new look, starting with these steps is the best way to be successful. Refreshing your brand could be as simple as changing your firm's colors or as drastic as changing your firm's name. What you choose to update is your decision, but the key is to keep everything cohesive. Here are the changes that we made to LeadRival –
Logo
A logo should represent who a firm is with a single look. Whether you have an abstract shape, a legal icon, or just your name, try not to change too much from what your clients and prospects remember you as. For example, Starbucks has gone through many variations of their logos over the years. The most recent change was their decision to remove the wording from around their iconic mermaid. Keeping these simple changes in mind will ensure that companies don't lose sight of who they are.

For LeadRival's new logo, we made small but efficient tweaks to what we had. Before, we had a Saturn as our icon followed by our typeface that contained various letter heights. We wanted to stick as close to our brand as possible, but also add meaning to our icon. This is where the Saturn and arrow combination came into play, acting as a metaphorical increase by showing movement upward. We also cleaned up our typeface to have a more simple look by removing the extensions on the R and L. If you'd like to learn how to create your own logo,
check out our blog article here.
One quick note: Don't forget to update your social media accounts and any legal documents/letterheads with your new logo!
Website
Great websites are the one thing that every business needs today. They allow people to access information about a firm anytime and anywhere. Websites are how many firms get their business because it gives potential clients something to trust. If a firm has never had a website, it's time to reach out to a trusted company to build one. For all firms that already have a website, make sure that it has these important elements: new graphics, a great layout, responsiveness and a contact page. We've got a few other tips on how to improve your website on
our blog article about it here
and
here
. The LeadRival website has always been up to date, but there's nothing better than getting a whole new look to go with a brand refresh. We took in some of the current website trends and applied it to our own site. New additions include video headers, single page scroll layouts, new icons and a few other tweaks. We played off our "Saturn" logo and incorporated new elements related to space.
Conference Booth
If your firm regularly attends conferences, this might not apply to you. But if your firm exhibits at conferences, tune in! A conference booth makes a first impression of a company, which is why we update ours annually. Our recent update is one that is unforgettable! We played off of the space theme with our website and included our new, bright colors in our eye-popping booth graphics. For many that have never designed a booth, there is a lot that goes into creating a good design. Picking the perfect booth, designing the graphics, and then calculating shipment costs will all determine how profitable your conference season will be.

A quick tip on booth graphics that isn't widely known is that you can use images that you might consider to be too small. While normal images that are printed should be 300 dpi (dots per inch), a trade show booth image only needs to be around 72 dpi to look good. Ask your graphic designer to increase the image size and decrease the dpi with the "Preserve Details (enlargement) option selected. This might sound like nonsense, but it will definitely help out anyone looking for the right image for their booth. Another tip on booth graphics is to remember that most of your design should be at the top if you'll have a table in front of it. Though it doesn't hurt to have extra elements on the bottom, make sure it's nothing that will be missed if someone views your booth from far away. If you'd like to see our booth in person, be sure to check
our events calendar
to see where we will be next!
Business Cards
Another branding element that you should consider updating are your business cards. Even with all of the latest technology and information sharing apps available, handing out a card with your contact info and logo is still a great way to make a lasting impression. Business cards come in all shapes and sizes (
literally
), but having a traditional 3.5×2 inch card will fit into someone's wallet instead of in the trash. We've switched up our business cards over the last few years, but there are a few elements that we've kept the same to stay consistent. A picture is worth a thousand words, which is why every attorney and business person should consider putting a picture of their face on their cards. Not only will it help people remember you later, but studies also show that it creates a sense of trust with the viewer. Another thing that we kept the same is the use of both sides for designs. Double-sided cards keep branding consistent through the repetition of brand colors and logos. The last element of surprise that we add to our business cards is a random pop of color with certain text. Don't feel like you need to use black all of the time – changing your email address or phone number to a unique color will help it stand out. Want more tips on how to design a business card?
Check out our blog post about it here
.
Tri-Fold Brochures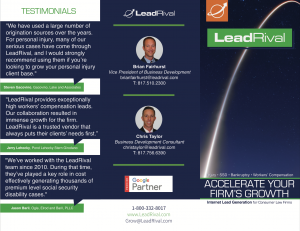 Brochures are one of the most useful, yet overlooked pieces of marketing content that a company can have. It's especially useful for firms that don't have a website but still want to show prospects their history and practice areas. They are also great for handing out information about specific law types. For example, handing out brochures at a bar that contain DUI legal information, a person's rights, and how to contact you might land an unexpected client or two. Giving people information and establishing yourself as an industry expert is always a great way to promote any firm. Our tri-fold brochures are great because they match up with our booth design, contain our practice areas, show off some testimonials, and even have pictures and contact information for our business development team just in case they lose our business card. It's a win-win situation, especially when people want to drop by our booth in between sessions at conferences. Making the design was easy for our design team, but if you'd like to try to design one yourself, use
Canva's free design platform
as a Photoshop alternative.
Lanyards & Company Swag
There is no better way to tie together a cohesive conference look than to have matching lanyards and LeadRival gear. Our lanyards are the newest addition, mainly because we're over the typical black and white lanyards that are passed out to exhibitors during conferences. Having unique name tags that match our booth and business cards will help people associate lime green and navy blue with the LeadRival brand. If you've ever seen our booth setup, we normally stick with a mixture of blue and green items with our logo on them. Color contrast plays a pretty big part in our decision to switch up colors for future conferences. Instead of our typical blue table cloth, we opted for a lime green one to pop against the navy blue booth graphic. Our choice to go with all navy tchotchkes was so that they'd stand out against our bright table. What unique swag do you enjoy picking up at conferences?
Your Brand New Look
Now that you've been able to see what all we've changed, what do you have in mind for your firm? Anywhere that you read online says that you have to really flesh out the details of a new brand, but it's worth it if you need to bring your firm up to date with the newest technology and trends. On top of creating a new look for LeadRival, we've also been focusing on optimizing our lead landing pages. Change is good if you know what you're doing. If you're still seeking an easier way to bring in leads for yourself, give us a call at 1.800.332.8017 or email us at grow@leadrival.com to learn more about how we can grow your firm!
Ready to start getting more leads?
Connect today to learn more...
Schedule a Call
Let's talk more about what LeadRival has to offer your firm.
Complete Our Contact Form
Let's talk more about what LeadRival has to offer your firm.