In the United States, millions of people are  accused of a crime each year and all of them are innocent until proven guilty in the court of law. These crimes range from minor offenses such as a traffic ticket to more serious infractions such as murder. As a criminal defense lawyer, you can assist these potential leads in finding relief fast and our lead generation services are designed to offer you that success.
How we help connect you to people facing criminal charges
Our Criminal Defense focused websites contain a wealth of information about criminal cases.  People who are accused of crimes find us by searching Google, Bing or Yahoo.  They click one of our organic listings or paid search ads in order to learn more and find a local attorney who can help them with their case.
Criminal Defense Leads – Data we collect:
When people are ready to connect with a local attorney, we don't just collect their name, phone number and email address.  We ask several additional questions to help determine the type of case they have and whether or not they are a good candidate for representation.  Some of these questions include:
Have you or a loved one been charged with a crime?
Is there a warrant for your arrest?
Type of crime
Is an attorney helping you with your case — Must answer "No"
Do you have a court date?
How will you pay for your legal fees? — Must answer that they have money to pay an attorney.
Criminals make mistakes every day, but you can't afford to make mistakes when growing your firm!
Partner with LeadRival today and start receiving a steady stream of exclusive, quality leads. If you are a Criminal Defense Attorney looking to grow your practice through lead generation, please call us today at 800-332-8017. Or, you can simply  Join Our Network and a representative will contact you directly.
---
Visit our Criminal Defense Site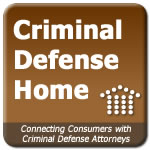 Our consumer based website, criminaldefensehome.com, is the first communication with these criminal leads. LeadRival's overall goal is to help them find you, so you can help protect them from conviction. CriminalDefenseHome.com is an educational and research tool used by consumers to assist them with the criminal process as well as capturing thousands of leads for our partners.