Video marketing is one of the most innovative ways to increase brand awareness and engage consumers online. Whether you take the educational approach or opt for comedic relief, according to a survey by Animoto, out of 1,000 surveyed, 73% of participants verified that they are more likely to purchase a product or sign up for a service if they watch a branded video.
Additionally, the report indicates that video strongly influences post purchase engagement and brand loyalty as 58% expressed preference and trustworthy feelings toward brands that produce video content.
Where to Start?
Videos are best used to guide and educated consumers on both the brand and services provided. Keeping this in mind, there are many different ways one can develop video content. It is important to know your overall goal and build your video in the direction of that goal. If the video is meant to be strictly educational, be sure to add an opening statement about what information will be covered. 87% found business videos helpful for further research into to services or products by the same brand, and 93% turned to video for post-purchase instructions and guideline so be sure to always end with a call to action .
Most importantly, be sure that the video content is developed around the company culture and personality. Let customers know what type of atmosphere to expect when they walk through your doors. Is the overall perception warm and inviting? Do you like to keep things light-hearted and funny or are you more serious? Whatever your company projects in real-life needs to be expressed over video. The more real you are with customers; the more likely they are to connect with your brand.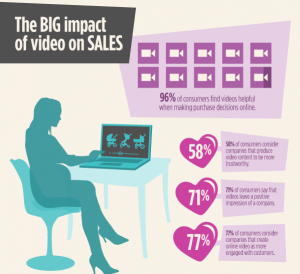 Video Length
83% of survey participants stated that the ideal length for a marketing video is 5 minutes or less so be mindful of the time it takes to get your point across. If the content drags on too long then the customer will lose interest. While time is an important factor, one must also be mindful of the overall content being delivered. Be sure not to cut important information in order to make the video shorter.
Also, 42% wanted more descriptive or demonstrative content so a good rule of thumb is to choose one or two exciting topics, a promotion, or current news and sum up the information like you would with a current client. Anticipate the questions that will be asked and answer them with the appropriate amount of detail.
Online Sharing Options
A huge part of online culture is sharing information that people deem informational, funny and inspiring. In order to increase engagement and brand awareness, be sure that every video posted has sharing options for all social networks-especially including Facebook, Twitter, Pinterest. According to the survey, 89% of participants are likely to share an educational video and 86% are likely to share a video if it is incentive based (share and get 25% off or a free consultation).
These statistics are meant to be used as guidelines when developing your video marketing strategy, however, it is important to incorporate your own style into the content and design. If the culture of your business is not "humorous" then take the educational approach. Test out different strategies and see what works best.
Source: 73% of Consumers More Likely to Make a Purchase After Watching a Video [Report]
http://www.reelseo.com/consumers-purchase-video/#ixzz36E54WNIN