Spring Cleaning – A Successful Marketing Checklist
Successful Law Firm Marketing Checklist [Infographic]
Spring is finally here, which means that it's time to take spring cleaning into consideration for your marketing. Get organized for the year and start seeing an ROI on your goals in no time! Below we've listed some tactics to keep top of mind when creating your 2017 marketing roadmap.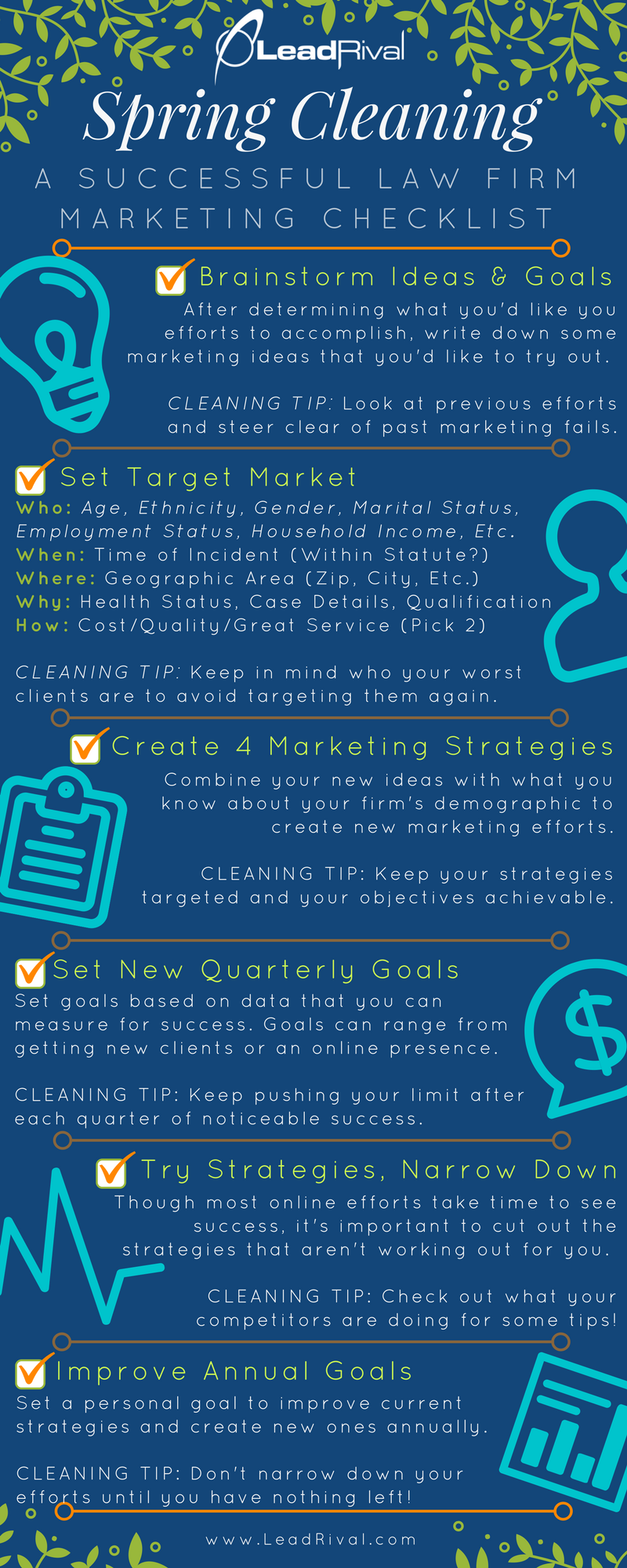 Brainstorm Ideas and Goals
Most successful marketing checklists begin with brainstorming ideas around what you'd like to accomplish. Do you want to focus on getting more clients to know who you are? Or do you want to focus on implementing conversion protocols? Determining which metrics you hope to improve will help give a better perspective on what needs to be accomplished.
When going through the brainstorming process, list all of the marketing efforts that you are currently working on and how they've performed over the past year. Don't forget to include any social media or pay-per-click advertising efforts you've attempted.
Next, compare that list to the options below and see if there are any new ideas that your firm might benefit from.
Email Marketing – Outbound
Monthly/Quarterly Newsletter (digital & print)
Social Media: Facebook, Twitter, LinkedIn, Instagram, Snapchat, etc.
Non-branded third party lead generation (like LeadRival)
Attorney / Doctor Referrals
Client Referrals
Online Advertising: Google & Bing (AdWords), Social Media, etc.
Print Advertising: Magazine, Newspaper, etc.
Broadcast Advertising: Radio, Television, Podcast, etc.
Outdoor Advertising: Billboards
Set Target Market
Now that you've brainstormed some different marketing tactics, it's now time to determine if they are worth investing money in. A target market, also known as a demographic, is a generalization of who your firm's ideal client would be. Determining who this person is will give you a better idea of the best ways to reach out to them.
What is the type of client that brings in the most money per case? Look at past client profiles and create a grouping of their qualities. Ask yourself:
Who: Age, Ethnicity, Gender, Marital Status, Employment Status, Education Level, Household Income, Technology usage
What: Legal Practice Area Needed
When: Time of Incident
Where: Geographic area (Zip Code, City, etc.)
Why: Health Status, Case details, Qualifications
How: Cost/Quality/Great Service (Most firms generally choose two)
If you are redoing your marketing plan for a more successful future, setting the bar higher in this part of the process will help determine how to market to future potential clients. It's also important to look at some of your worst clients and see what category you can create for them. By determining past failures, you can focus your efforts to not target them in the future.
[Tweet "Set your firm's target market by answering WWWWH."]
Create Four Marketing Strategies
When contemplating new strategies, brainstorm ideas with your target market in mind to get the best results. For example, if your target market are men in their 60's looking for social security disability help, you should probably avoid marketing to them on Snapchat and Instagram. By keeping in mind your target demographics' habits, you will have a better idea of what may work before investing marketing dollars in it.
If you don't know where to start, here are some great marketing strategies to start with:
Designate 3 target markets
Brainstorm new marketing promotions
Create unique marketing programs
Enforce new client initiatives
Update your firm's brand and freshen up your website
Improve your online presence through social media
By changing past strategies and creating achievable objectives, your marketing checklist will be more successful. Though most attorneys claim that a majority of their business comes from referrals, it's still good to bring marketing efforts up to date in today's fast-paced world.
[Tweet "LeadRival spills on their marketing strategy here!"]
Set Quarterly Goals
After writing down a few realistic strategies, the next step is to set goals to strive towards over the next quarter. The data that you analyze could be a multitude of things based on what you see as success. If you are looking to bring in new clients that have never heard of you, measuring client influences and setting a number of new clients to reach is a great start and will yield tangible results. But if you are already established, creating a steady online presence might be better off for your firm. This will allow potential customers to find you online easier and view your client testimonials, industry credibility, and learn more about your firm.
Whatever you decide for your quarterly goal, keep trying to push the limit when you see success.
Try Strategies, Narrow Down
If some of your strategies didn't meet their goals, it's time to optimize your marketing efforts by focusing on the things that did work. Though most online efforts take time to see success and value, direct advertising tactics will show if they are profitable rather quickly. If you are unsure of what is or isn't working, research what your competitors are doing. Most of the time, when a firm is spending money on a marketing strategy they are seeing returns that justify the expense.
Improve Annual Goals
After narrowing down your strategies each quarter, make note of what you'd like to try in the following years. If you think that one of your failed strategies could be tweaked to be successful, come back to it in a year and try it out again. You don't want to narrow down your strategies until there is nothing left to do! Set a personal goal to create new objectives for your firm every year. With the introduction of new services and new technologies hitting the market, you never know what might skyrocket your business! Make sure to always take note of the ROI of each marketing strategy that's implemented and match it with your desired cost per client.
If you'd like to learn more about how to market your firm, please check out our completely free, 6 Week Marketing eCourse. You will get the templates that you need to determine your target market, set goals, and more!
But if you'd like to focus more on your firm and less on marketing, feel free to contact us any time at grow@leadrival.com or 1-800-332-8017. We can discuss your marketing checklist and how legal leads can help you cut down on marketing costs and efforts with a higher ROI.
Ready to start getting more leads?
Connect today to learn more...
Schedule a Call
Let's talk more about what LeadRival has to offer your firm.
Complete Our Contact Form
Let's talk more about what LeadRival has to offer your firm.