Texting: The New Way to Contact Leads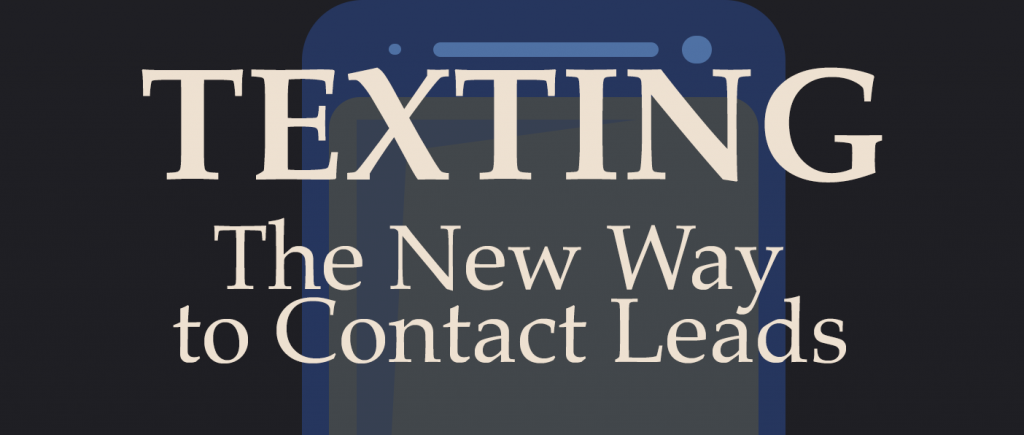 TO TEXT OR NOT TO TEXT?
Technology is constantly changing the way that lawyers conduct business. Before email, phone calls and written letters were the main ways to communicate with clients. It was a simpler time when there were fewer guidelines for attorneys to follow when communicating with clients. Now, it's rare to not receive someone's cell phone number as their main point of contact. The wide adoption of cell phones and social media bring a new set of rules to the table  on communication. Texting is one of the easiest and most effective ways to communicate with prospective clients. Here are some do's and don'ts of texting clients.
DO
READ YOUR STATE'S BAR RULES ON SMS MESSAGING
Even though we are recommending text messaging, your state bar might have a different opinion about SMS and marketing. It's always a good idea to check and make sure that you won't run into any issues when using new technology.
The Telephone Consumer Protection Act (TCPA) states that businesses must get consumers' permission before sending them text messages.  At LeadRival, all  of the prospects we generate fill out a form with their personal information and opt-in to have an attorney reach out to them by phone or text.
REACH OUT TO LEADS ABOUT INQUIRIES
When a consumer submits their information on a lead form, they are expecting to be contacted right away.  Therefore, it is extremely important that you contact leads as quickly as possible.   A lead is more likely to to become a client if they haven't had time to move on to a different thought – or attorney.
Reaching out via text shouldn't be the first action that you take, but it should be on your list of follow-up tasks. Calling is the best way to reach someone, but a follow-up email and text work well if they don't answer. Use your judgment and try out a few different ways of communication to see what works best for your firm.
SET UP TIMES TO MEET UP OR TALK
You've been given an email address and a phone number to speak to a prospect – so which do you use? The answer depends on the client. While it's always best to set up meeting times via email, a text message is a quick way to change times or meeting places. Some phones can even set a calendar meeting just by texting a time and date. Facebook already has this option on their messenger app, so it's a feature that is quickly rising in popularity. Keep your options open and work around your client's preferences to stay in touch in between meetings.
EXCHANGE GENERAL INFORMATION
If you're trying to get some quick details from your client, a text message is a great way to update a case file. As long as your comfortable exchanging substantive information, texting shouldn't be an issue. We always suggest keeping exchanged information confidential by sticking to texts, but it is up to you to set the line with your clients up front.
Whatever you do, always remember to keep it casual. If you feel that a text message chain is getting too long, ask to email instead. From there, you can summarize what was spoken about via texting and move forward with your discussion.
DON'T
DISCUSS CASE INFORMATION IN DETAIL
Privacy is a big concern with texting, especially when phones often preview text messages on the home screen. If you're going to offer texting as an option to clients, it's best to turn off that feature to ensure that client confidentiality is met no matter where you are. It's also suggested to put a password on your phone so that no information can be retrieved easily.
To be on the safe side, keep all case information in emails and in person. This will keep you from wasting your own time writing long response messages and documenting the conversations.
CHANGE CONTRACT DETAILS
If you feel that something originally agreed upon needs to be changed, sending it over text should be the last thing you do. Not only are text messages more likely to be interpreted the wrong way, but they also aren't always seen as reputable responses. Send your changes or cancellations over email to be on the safe side, it will save your sanity in the long run.
TALK IN COURT OR DURING BREAKS
This should be a no-brainer, but some people don't know when and where to stop texting clients. That quick text of encouragement during a case can take a turn for the worst and be used as evidence against your client. Giving your client a key talking point or sending a quick apology in court is also not something to be messed with. It's best to just leave texting completely out of court issues unless there is a change in date or time.
ELECTRONIC FILING
When using text messaging as a venue for communication, there will be times that you will need to add information to case files. While a good rule of thumb is to forward legal advice and client instructions or information to case files, some states actually require you to document all communication that goes on between attorneys and clients. In this case, if you don't want to screenshot texts or forward them to your online document, a good way to recap what you talked about is to send your clients an email summary of what was discussed at what time and date. This will make it easier to refer back to in the event that you need to look up what was said.
EXAMPLE SCRIPT
If you're unsure of how to start a text message to a prospect, follow this quick script to get as much information in a short text!
Open with their name
State who you are and your firm name
Tell them you're reaching out because of their recent online inquiry from time/date
Let them know the steps that you have taken before the text (email or phone call)
Leave your email address or direct number and suggest a time to talk more in-depth about their case
"Hello, Jane. My name is John Doe with Doe Law Firm. I'm reaching out about your online inquiry that was sent in at 10 am. I've tried emailing you and calling you, but you can reach out to me at this number or at john@doelawfirm.com to set up a time to talk. Thanks!"
This method works great for when you're not getting responses because most current smartphones will show if your message has been read. It also will give the prospect an option to click your email and send over a message if they can't talk on the phone.
TEXT AWAY
Bring your firm into the age of technology and start texting today (if your state bar allows it)! This is especially true for firms that aren't getting leads and plan on using texting as a marketing venue. Most states that do allow SMS marketing require attorneys to state that they are sending an advertisement before and after a message. If you'd like to skip marketing yourself through texting, consider legal leads as your main source for prospects! You can learn more by calling us at 1.800.332.8017 or emailing grow@leadrival.com.
Ready to start getting more leads?
Connect today to learn more...
Schedule a Call
Let's talk more about what LeadRival has to offer your firm.
Complete Our Contact Form
Let's talk more about what LeadRival has to offer your firm.