The Importance of a Firm's Visual Elements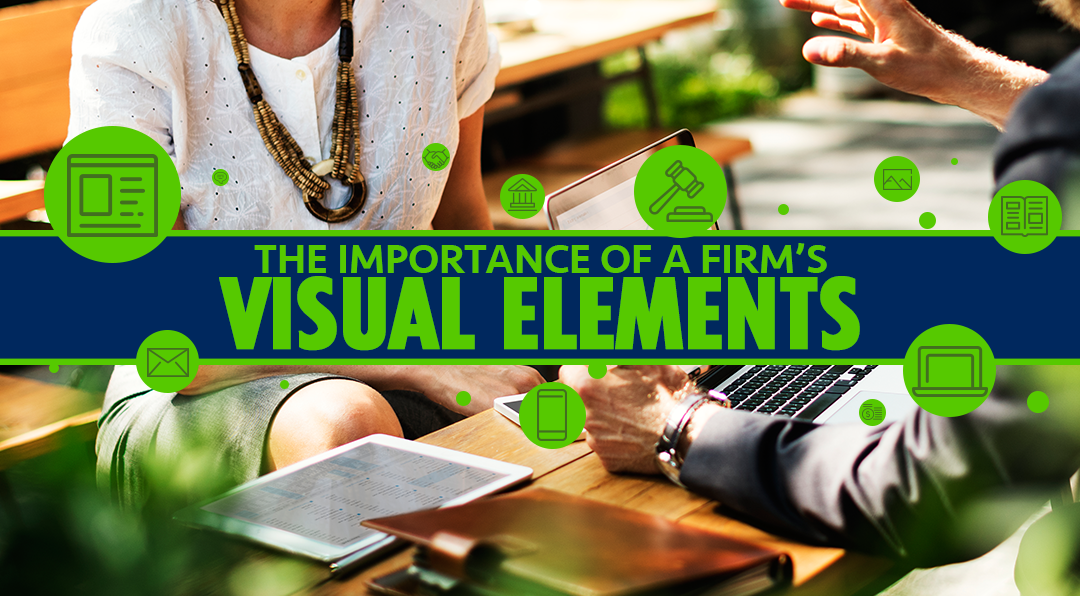 Have you ever visited a website and felt overwhelmed with information? Having too much text and not enough visual content is usually to blame. We frequently see firms that use their website as an information hub but don't appeal to their site visitors visually. This problem can cause visitors to abandon your site. Learning how to balance your content with relevant images can make a major impact on your website's performance.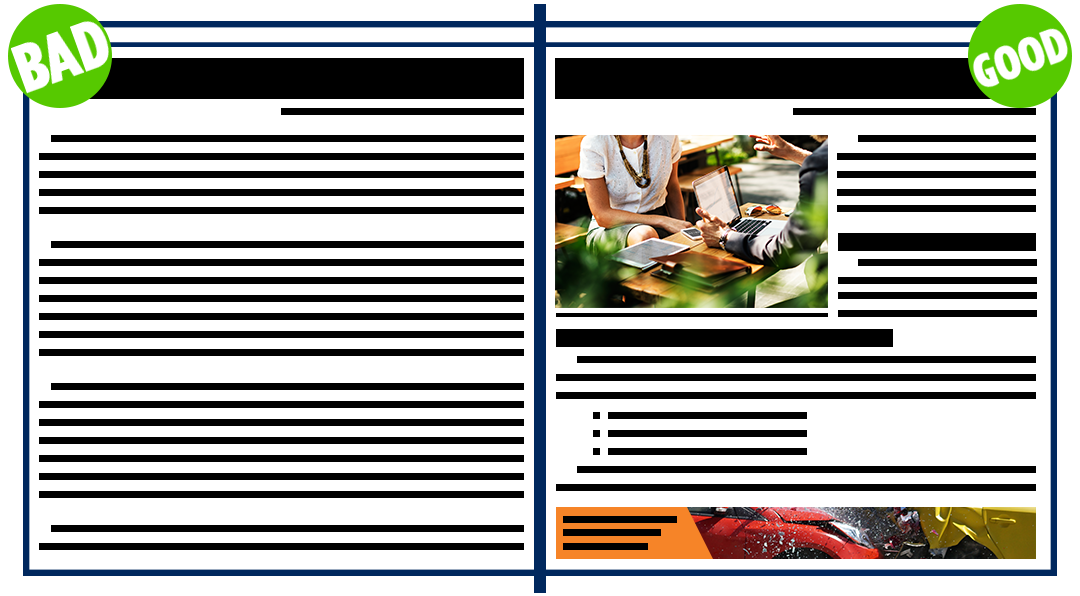 Take the fake website above for example – there is a ton of text and users have trouble knowing where to focus. By adding an image, video or chart, the reader becomes more comfortable and has an easier time engaging with the content. With a few tweaks, the website we saw before can become easier to skim over and process quickly.
Visuals can break down into various forms: images, videos, charts/infographics and type variations.
Images
Images are a great way to catch the attention of your website visitors. They tell a story and can give someone a better understanding of what you have to offer. When choosing images for your site, try to pick ones that convey the emotion or intent you desire your site visitors to have.
Best VS Worst Images to Use
Some of the best images we've seen use were taken with the specific firm in mind. By hiring a photographer for a day, firms can produce  visual content that contains relevant, practice area specific intentions. Try taking pictures around your firm with your attorneys or take pictures with current clients. It's a great way to your photo library.
Example Images & Where to Find More
Great images that are perfect for law firms to use on their website and their digital content include personalized images that best describe services offered. For example, when looking at the pictures below, you'll notice that the photo on the right would be better for a Nursing Home Abuse Firm to use instead of the generic picture on the left. Try out different keywords to bring up new images, and if all else fails, search Flickr's Creative Commons.
Free Photo Sources:
Pixabay • PicJumbo • StockSnap.io • Gratisography • SplitShire • Kaboompics • Negative Space • LifeofPix • Unsplash • Pexels • Morguefile • VisualHunt • Stokpic • Burst • Pikwizard
Videos
Did you know that websites and landing pages that contain videos have higher conversion rates? However, many firms struggle with finding video topics. The topics below are a great place to start when brainstorming for content creation:
One of the best uses of video is to create an introduction video about your firm. This video could be as simple as having each attorney speak about the cases they represent.
For firms that represent difficult cases, sometimes it's a good decision to explain what makes a case and what steps people should take. For example, Bankruptcy attorneys can explain the differences between Chapter 7 & 13 bankruptcies.  Make a list of the top questions new clients ask and then answer those questions in short videos.
Firms that have testimonial videos offer references for their services with personal stories behind them. These videos  help create a connection between attorneys and clients built on trust.
If a firm offers free consultations or any other offers, creating a video about it is a great way to spread the word.
Pond Lehocky Stern Giordano created this testimonial video as an advertisement for their law firm. It's a great way to connect with prospects on an emotional level and it shows that their firm gets results.

Bryan Wilson has some of the most memorable and hilarious introduction videos for being an attorney. Just because he practices law doesn't mean that he can't have fun while doing it! 
There are many ways to make videos.  If you don't have time to learn video editing software, check out our blog on how to create whiteboard videos. It's quick, easy and effective for gaining your audience's attention.
Charts/Infographics
Converting content or statistics into an easily digestible format such as charts and infographics engages audiences across all channels. The best part about creating these types of graphics is that you can reuse them on social media, in case studies and anywhere else that you want to quickly grab the attention of your readers.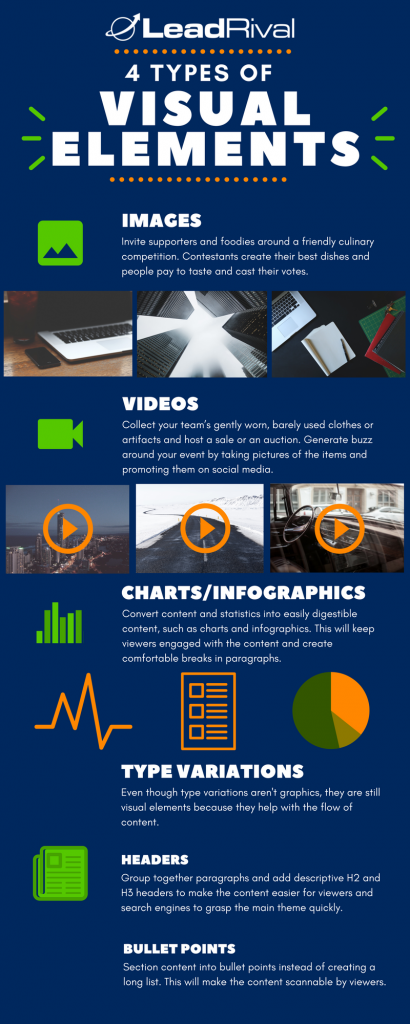 There are many programs and websites that you can use to create charts and infographics, but Canva is free and easy to get started with. Try out one of their templates by clicking here.
Type Variations
The last visual elements that are important to touch on are type variations. Even though your copy isn't classified as a graphic, it should still be easy to scan over quickly for main points.
Create H2 and H3 headers with SEO packed keywords to help readers and search engines get a better idea of the text as a whole.
Instead of writing content as one giant piece of information, section content by bullet points. Again, scannable content is the best way to get information across to readers without them losing interest.
Keeping your content exciting with visual elements is easy and worth your time. Not only will it keep readers engaged, but it will also allow for your content to be shared.
If you have any questions about content or would like to learn more about marketing your firm, please give us a call at 800-332-8017 or email us at grow@leadrival.com
Ready to start getting more leads?
Connect today to learn more...
Schedule a Call
Let's talk more about what LeadRival has to offer your firm.
Complete Our Contact Form
Let's talk more about what LeadRival has to offer your firm.